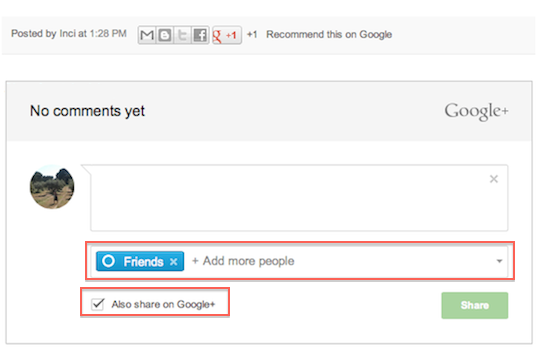 Google+ comments released and available for your blogger blogs!
---
Couple of months ago rumors were circling that Google is working on their own commenting system similar to Disqus, Facebook comments, Intense Debate, LiveFyre, etc.
The good news is those rumors are almost realizing now (at least partially). Google+ team has recently announced the immediate availability of  Google+ comments within blogger (blogspot.com) as an alternative commenting system. Our assumption is, it's just matter of time before this feature is extended to all other sites as a plugin (similar to facebook comments).
How to enable Google+ comments in blogger?
Before using Google+ comments, you must upgrade your blogger account to use Google+ profile from your blogger dashboard.
Once you've upgraded to use Google+ profile, go to blogger dashboard, click on Google+ on the left and check Use Google+ Comments on this blog check box. That's it, you blog will switch over to use Google+ comments as the default commenting system.
How does Google+ comments work?
It is very simple. After enabling comments and when your post is shared on Google+, readers of your blog post has the option to comment right within Google+ and all comments will immediately appear in blogger (and vice versa). (Please refer image above)
To get a feeling of how Google+ comments work, checkout this original blog post about the announcement of this feature.
Advantages of using Google+ comments
Readers must have a Google+ profile or page in order to comment on your blog post
Above requirement automatically takes care of web spam
When your or someone shares your blog post on Google+, people have the option to comment from Google+ and those comments will automatically appear in your blog post (and vice versa). Improves interaction and visibility of your post and hence the blog
Receive Google+ notifications when someone comments or shares your blog post
Enable Google+ comments for your blogger blog, try it out and share your thoughts.

Popular terms