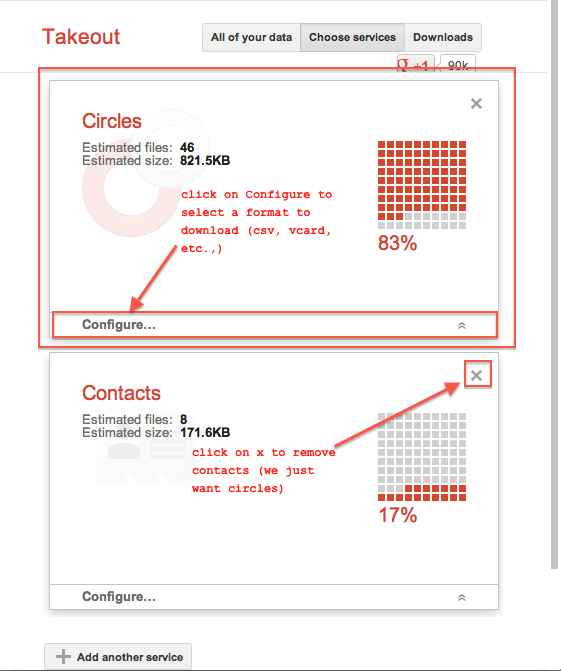 How to export Google+ circles in vCard, csv, pdf or html format?
---
Interested in managing your Google+ circles offline via your favorite tools like spreadsheet? or like to import circles into your address book?
Google+ offers to export all your circle contacts (organized in circles) in these formats
Supported Formats
vCard (address book format)
CSV (comma separated values)
PDF (portable document format)
HTML (for displaying on the web, although you don't want to do this)
How to Export Google+ circles?
Goto Google+
Click on Settings icon drop down and select Settings (Gear icon on the right)
Expand the Account option the left
When you expand you'll have two options: Account Activity and Data liberation
Click on Data liberation
Click on Download your Circles and Contacts
You will see two cards (one for Circles and another for Contacts) [refer image]
Click on Configure and choose the format you like to download [refer image]
Optional: Click on x icon next to Contacts so that you only download Circles
Now click on Create Archive button and Google+ will create the archive within seconds
Click on the Download button and the circles downloaded as a single zip file
Extract the zip file and you'll find files with circle name (easily organized)
Open each file and play with the data
We recommend using CSV format since it returns complete data in nicely organized format (name, email, profile url, etc) and use your favorite spreadsheet application (Excel, LibreOffice, etc) to play with the data.

Unfortunately, Google+ circles doesn't allow to import circles at this point (This is a nice and handy feature to have).

However you could use transfer circles feature to move circles and google+ data.

Enjoy playing with the exported data and share your thoughts.

Popular terms
export vcf to google plus
Google CirclesvCard format