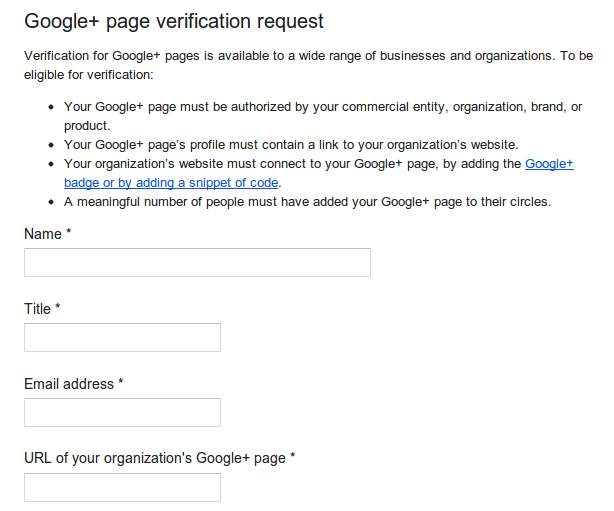 How to request for google+ page verification (verified profile seal)?
---
Verified pages or profiles (verified seal on profiles) are important part of google+ that helps identify authenticity of any google+ page or profile.
With the recent introduction of Google+ Vanity URL or Custom URL which at the moment only available to some verified pages or profile, makes us wonder how to request for a page verification?
The good news is they have published a web based process for page verification. A simple request form (refer image) for pages that represent a commercial entity, organization, brand or product.
The bad news is, there is no way to submit verification request for individual or personal profiles. As far as we know it's a manual process by Google+ team to contact popular profile owners based on their active role in G+ and followers count.
Google+ page verification request form
So, if you are a business, organization, brand or product submit your details via this customer request form and they'll back in touch with you.
Make sure you've done these steps before applying for verification
Your page must be about your business or organization
The page must be authorized by your commercial entity, brand, product or organization
Your G+ page must contain a link pointing to your website

either through Website section in the profile
or through the Links section in the profile

Your website should have the Google+ badge and must be be connected to your G+ page
Your G+ page must be added and followed by at-least some significant number of users (The number is not defined but a few hundred's should be good enough)
Please share your experience after applying for page verification.

Popular terms
google page verification request form