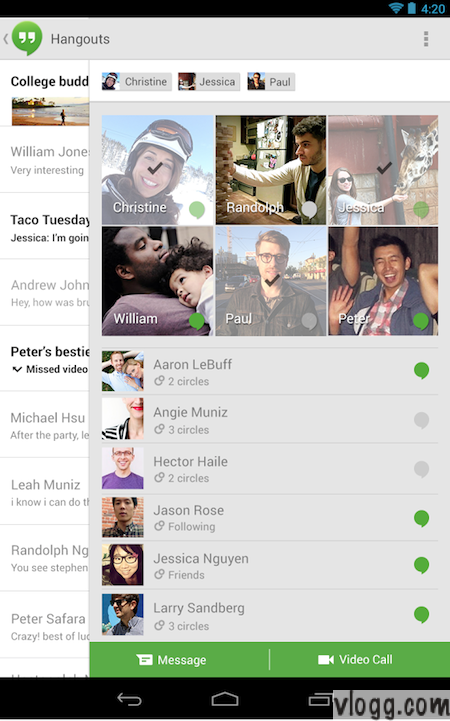 Now See Who is Online using New Android Hangouts App!
---
Google Talk app always showed who is online through a green icon indicator. However when gTalk was replaced with hangouts app recently, the new app lost that important online status feature.
This annoyed many including myself since to message someone you have to message and wait for a reply to figure out if they are online.
Not anymore, Google+ Hangouts app v1.6 released today now shows who is online as green icon.

Android Hangouts App v1.2 Changelog
– You can finally see who is on Hangouts! When you start a new Hangout, green icons show who's on, and gray shows who's not.
– Contacts are now organized by People you Hangout with, Suggested People, and Other Contacts.
– Long press contacts in the New Hangout screen to hide them.
– Invites are now above your conversations so they're easier to find.
– Pinch-to-zoom photos!

Install or Update from Google Play Store. Enjoy!

Popular terms
hangouts online
how to know if someone is online in hangouts
App for who is online
how do i know who is currently on hangouts
how to tell if someone is online on hangouts app
how to tell if the app is open or if someone is online in hangouts
if someone is using their gmail will it show on hangouts they are online